Industrial equipment dealers
Agricultural equipment dealers
Commercial equipment dealers
Why equipment dealers trust us
We have over 100 years of experience creating custom-built insurance solutions for Canadian businesses.
Through our experience working with heavy equipment dealers, farm equipment dealers, and other equipment retailers, we've come to understand the risks you're exposed to on a daily basis.
Whether you run a small retail operation or manage a major equipment dealership, take advantage of our industry expertise to get a complete commercial insurance solution designed specifically for your business.
At Federated Insurance, we provide:
Customized insurance solutions designed for equipment dealers
Dedicated advisors who work with you directly
Expanded coverage options
Flexible payment and deductible options
Quick, hassle-free renewals
Industrial equipment dealers
Agricultural equipment dealers
Commercial equipment dealers
Work with us directly
Federated Insurance works directly with you. Whatever your needs, our team of industry-trained experts will help you ensure that your commercial, industrial or agricultural equipment business is properly protected.
We take the time to understand your business today and in the future, so that as your business evolves, we can help align your coverage with your changing business needs.
Value-added services for your equipment retail business
Once you become a Federated Insurance customer, you'll have access to an array of value-added services for your equipment retail business, including: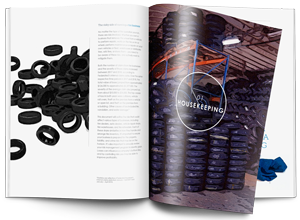 Do you want to learn more about the risks tire businesses face and the appropriate steps to take against them?
Risk management tips for equipment dealers
Tip #1:
Losses happen, but business continuity planning can help keep your business going. Stay on top of local and global events and trends to anticipate problems, and develop procedures to handle crises like fires, natural disasters or data downtime.
Tip #2:
When you sell equipment, you're obligated to ensure that it's safe to use. Be sure to include all necessary safety components with the equipment, advise your customers on best practices for safe operation, and take photos prior to the sale. You might also consider including a useful safety checklist with the documents to be signed upon delivery or pick-up.
Tip #3:
Each year, tens of millions of dollars' worth of equipment is stolen in Canada. Having a current inventory and keeping detailed records of all equipment (and tools) used in your building and offsite will be instrumental in recovering and managing your assets.
Latest blog posts for equipment dealers:
Check out our latest blog posts for some tips on business, customer, employee and operational safety for commercial, farm, and heavy equipment dealers:
Ellen Brait
Sales are likely at the forefront of any retailer's mind. But your business also faces unique risks daily, and precautions [...]
Elizabeth Tela
Whether climbing a ladder on an uneven surface, carrying heavy supplies on slippery floors, or simply walking down a [...]
Elizabeth Tela
When humans inhale or ingest asbestos fibers, the material can get trapped in the nose, throat, or digestive tract, [...]