What is pollution liability insurance?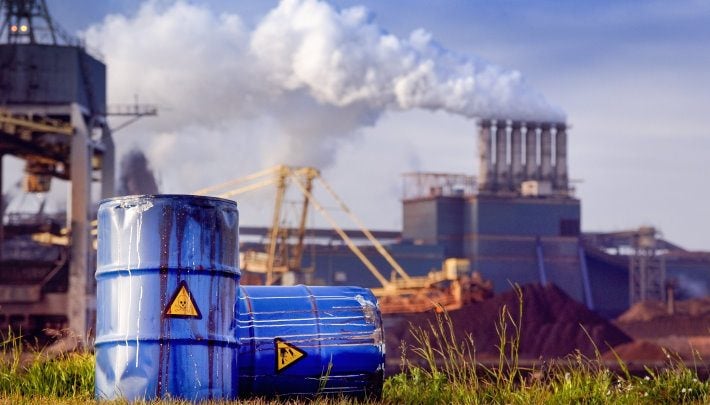 Whether sudden and accidental or occurring gradually, the release of a pollutant – hazardous or otherwise – can cause serious damage to the environment and community, but also to your project, reputation, and your bottom line. Pollution liability insurance (also sometimes known as environmental impairment liability insurance) is designed to help protect you from costly expenses. It goes above and beyond standard Commercial General Liability (CGL) and Property policies, which usually exclude coverage for any environmental damage.
What types of pollution liability do we cover?
Contractors pollution liability
Contractors pollution liability provides coverage for work done by or on behalf of a contractor resulting in the release of a pollutant into the environment. It can provide you with protection for both ongoing and completed projects, and may include coverage for property damage, bodily injury, clean-up, legal defense, and regulatory fines.
Premises pollution liability
Our premises pollution liability coverage is designed to help protect customers from pollution releases at, on, under, or migrating from a location they own or lease. With this coverage, receive first-party coverage for business interruption, clean-up, and emergency response costs, as well as third-party coverage for clean-up costs, property damage, and bodily injury. This policy can also help customers comply with common landlord/tenant obligations and other agreements the business may have in place.
Transportation pollution liability
Environmental impairment isn't just restricted to your business' property or worksite. Whenever supplies, equipment, or waste is moved, there's the potential for pollution to be released into the environment. Transportation pollution liability provides protection for pollution emanating from products or materials during loading or unloading while being transported, shipped, or delivered by your business or by a carrier on your behalf. It is available as an optional coverage with both premises pollution liability and contractors pollution liability policies.
Who needs pollution liability insurance?
It takes years of dedication to perfect your craft. It only takes a few minutes to protect your business and reputation against an insurable loss. Suffering an uninsured loss could be hard to recover from.
These are just some examples of professionals that should consider pollution liability insurance:
Auto Dealers
Auto Repair Garages
Carpenters
Consumer Goods Manufacturers
Fuel Dealers
General Contractors
Landscaping Contractors
Machinery Manufacturers
Mechanical Contractors
Service Centers
Septic Tank Contractors
Water, Sewer, and Pipeline Contractors
Here are some situations where pollution liability insurance could come in handy:
Solvent theft
Someone tries to steal solvent stored by a business in a 2,000L tank on its property. In the process, over 1,800L of solvent is spilled. The solvent contaminates not only the surrounding soil, but also a nearby property and waterway. The business' premises pollution liability policy could help cover the loss.
Mould clean-up
Let's say that a general contractor is hired for a project to renovate a building. During construction, a water pipe within a wall is accidentally pierced, which leads to the creation of a slow leak that continues for several weeks before being discovered. This results in a large amount of mould developing. The clean-up costs may not be covered under the contractor's CGL policy but supplementary environmental impairment liability protection may be able to help.
Other coverage options to consider:
Commercial property insurance:
Commercial property insurance can help protect your physical assets, like your storefront and your warehouse. It's also designed to help with the repair or replacement costs for tools, equipment, inventory, electronics, and other assets that are crucial to running your business.
Commercial general liability insurance:
If you're found legally liable for bodily injuries or property damage to a third party, this coverage can help. It can also offer protection in situations where you or your employees are conducting business offsite.
Commercial auto insurance:
Commercial auto insurance can help if you or your employed drivers get injured in a car accident involving your business vehicle. It can also provide replacement car coverage if you need to rent a temporary car for business operations following a covered accident.