What is business interruption insurance?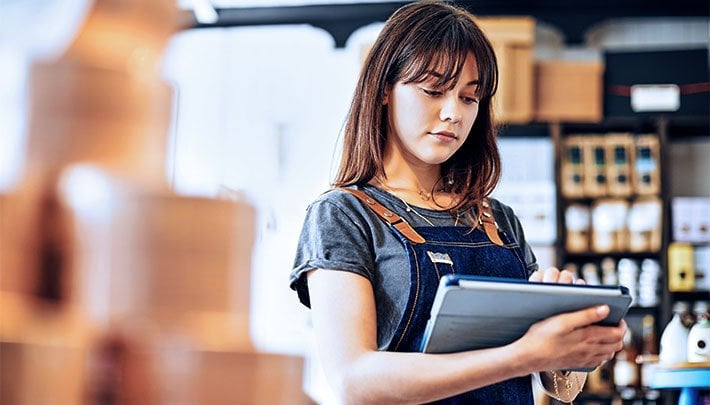 Making sure your building and inventory are insured is a no-brainer. But what business owners may not have considered is insurance to cover the loss of income after a disaster. That's where business interruption insurance comes in. This type of coverage is designed to help a business owner, whether you're a grocery store owner or a retailer, collect the income they would expect were it not for the event that set their business back in the first place!
What is business interruption insurance?
Business interruption insurance will replace a source of income that's disrupted, reduced, or completely eliminated if a covered peril suspends your operations. It also includes coverage for extra expenses to expedite your return to business or help limit your loss.
How does business interruption insurance work?
Say you're a manufacturer who creates your own products, and your business suffers a break-in. You discover that the thieves have taken all the equipment you need to produce your goods. After a loss like that, your business will need some time to recover; you'll need to replace that equipment in order to get back up and running. During that time, business interruption insurance would help cover your regular business expenses such as rent or your employees' salaries.
While your commercial property coverage may help cover the repair and replacement costs of your damaged or stolen property, without a source of income during that time, you may find your business ends up bankrupt or unable to reopen. Without a sufficient reserve of funds, you would rely on your business interruption insurance to help replace income which was reduced (or lost) due to the interruption.
What is contingent business interruption insurance?
Your bottom line can suffer when businesses you work with experience issues, too. For instance, say a big fire shut down the operations of one of your suppliers: it may take you some time to find a new supplier for the particular product they were providing you. Contingent business interruption insurance is an extension of your coverage that is designed to reimburse your lost profits and extra expenses caused by an interruption to a customer's or supplier's operations.
Who needs business interruption insurance?
Anyone who owns a business should consider this type of coverage. This includes businesses running at a loss as well as non-profit organizations, because even if you are losing money (and thus don't have any profit to insure), you still have expenses to pay.
How much does business interruption insurance cost?
When determining how much business interruption insurance will cost, the following factors are considered:
Value of your business' commercial property
The industry your business is in
Your annual revenue
Can we help you with risk management?
Yes! Our Risk Services Specialists can work closely with you to provide the advice, support, and training you may need to analyze the potential risks to your operation. Knowing the exposures your business could face can go a long way in helping you avoid future losses.
Our Risk Services Specialists are available to help create a customized action plan that will address those issues and help you protect your bottom line. Whether it's sharing our risk management observations on your current business, potential new locations, and business acquisitions, or providing you with timely tools and resources, we're here to help you be as successful as possible.
When you need help quickly, our Risk Management Assist service grants you access to our Risk Services Specialists, who can answer a variety of questions on topics, including property, auto, and liability loss prevention. They can also provide guidance on any regulatory, legislation, or code requirements your business may be dealing with.
Other types of insurance coverage to consider:
Commercial property insurance:
Commercial property insurance can help protect your physical assets, like your storefront and your warehouse. It's also designed to help with the repair or replacement costs for tools, equipment, inventory, electronics, and other assets that are crucial to running your business.
Commercial general liability insurance:
If you're found legally liable for bodily injuries or property damage to a third party, this coverage can help. It can also offer protection in situations where you or your employees are conducting business offsite.
Commercial auto insurance:
Commercial auto insurance can help if you or your employed drivers get injured in a car accident involving your business vehicle. It can also provide replacement car coverage if you need to rent a temporary car for business operations following a covered accident.
Cyber risk insurance:
Cyber risk insurance can help support your business if your computer network is breached, leading to information being stolen or ransomed, business operations interrupted, computer systems corrupted, and other consequences.