What is cyber risk insurance?
As the world becomes increasingly digital, the risks surrounding cyber threats are growing. No matter what industry you're in, your business could be vulnerable to cyber attacks. That's where cyber risk insurance comes in — it helps protect your company's reputation and bottom line.
What is cyber risk insurance?
Cyber risk insurance helps support your business if devices or documents are lost or stolen, or if computer networks are breached, leading to information being stolen or ransomed, business operations interrupted, computer systems corrupted, and other consequences.
It's no longer sufficient to only protect your business from threats you can see. Cyber threats are on the rise – 21 per cent of Canadian businesses have been impacted by a cyber incident. Cyber risk insurance helps support your business if devices or documents are lost or stolen, or if computer networks are breached, leading to information being stolen or ransomed, business operations interrupted, computer systems corrupted, and other consequences.
But support from cyber risk coverage doesn't end after the initial attack. Consequences from cyber breaches can last much longer than one might think: remedial measures could take days, weeks, or even months. Your business may have to repair networks, deal with legal claims, or hire a public relations firm to help restore your company's reputation. Cyber risk coverage can help with these events and more as you work to get your business back up and running at full capacity.
How can cyber coverage protect your business?
Federated Insurance Cyber coverage combines first-party and third-party coverage, coverage for data stored anywhere in the world, and Cyber Assist to provide your company with broad protection against cyber risks. First-party coverage can protect your business from the costs that directly impact your business. Third party coverage can protect your business from the costs that third parties, such as your customers or suppliers, incurred because of your business' cyber claim.
Who needs cyber risk insurance?
No matter what industry you're in, if you handle any information electronically or you use a computer, your data could be at risk. That's why it's important to be prepared.
Hackers don't discriminate: A Canadian Internet Registration Authority (CIRA) survey in 2019 reported that only 41% of businesses have mandatory cybersecurity training for all employees. If you operate a small business, you may think you're less likely to be targeted, but hackers target companies of all sizes in all industries. Small and medium sized businesses account for almost half of all Canadian cyber security incidents.
Cyber attacks are expensive – in more ways than one: If your business suffers a cyber attack, you'll likely have various costs that pop up as you get your operations back on track. But what you may not have considered is the money you'll lose because of business downtime. Business interruption can be costly, as your entire company comes to a screeching halt and your income stops coming in, but your employee's salaries must still be paid. According to the IBM Ponemon Institute's Cost of Data Breach study in 2020, the average cost of a data breach in Canada is $4.5 million USD. Small businesses face disproportionately larger costs per employee relative to larger organizations.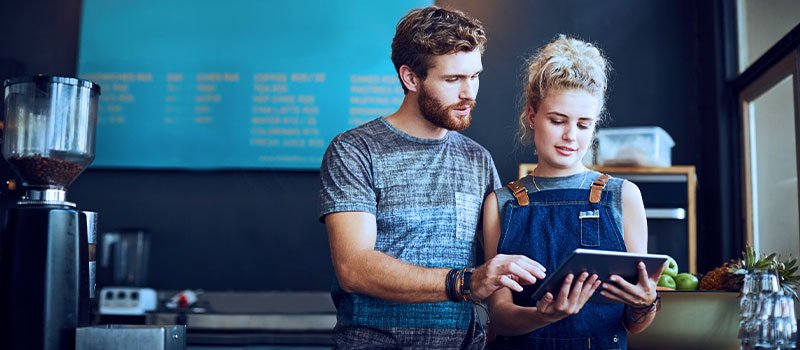 Here are some situations where cyber risk insurance could come in handy:
An employee is tricked: Say some of your employees are targeted in a phishing scheme, where fraudulent emails trick them into sending their login credentials to an outside individual. Depending on what information is shared or accessed, your company's and customers' data could be at risk. In response, you may need to hire a public relations firm to handle communications with the public and help to restore trust in your company. But even still, you could face a lawsuit from affected customers. A cyber risk insurance policy could help with these costs.
Malware is introduced: Imagine that malware affected the computer network of a small professional services company over the weekend. On Monday, the office staff finds they're locked out of their Customer Relationship Management system and unable to service customers or contact them to reschedule any appointments. To help restore access, IT forensics may need to be called in: they can help decrypt the computer system and determine whether any customer information was accessed or stolen. The IT forensics work performed on your computer system may be covered by a cyber risk plan. Then, depending on the results of that investigation, further actions involving a public relations firm may need to be taken.
Business interruption: Picture this: a mid-sized manufacturer experiences a cyber breach and malware infects its computer network, including automation systems. The company's IT department spends days recovering electronic data from corrupted storage devices and repairing the computer systems to continue operations. During this clean-up process, regular business income is lost, as the company cannot operate. But that's not all. Because of the interruption, vendors of the company also experience lost income and delays of their own. This one cyber attack could be costly. As a result, the company must deal with forensic investigation, legal expenses, business income loss, and litigation from vendors for breach of contract. The costs associated with all of these events may be covered by cyber risk insurance.
Access Cyber Assist – at no additional cost!
If you purchase Federated Cyber Risk insurance, you will also gain access to our Cyber Assist services, which are provided by CyberScout, a leading data risk management service provider.
With CyberScout's help, you can learn about necessary steps to take to help prevent a cyber attack and what to do should a breach occur. Through CyberScout, you'll also gain access to their secure website, which offers educational resources, data breach regulations, customizable templates, and self-risk analysis.
We're here to help you manage your risk
To help prevent damaging events from happening in the first place, Federated Insurance has developed exclusive programs and services to enhance workplace and employee safety – a must in any business. Our Risk Services specialists are available to help you create, implement, and maintain a company safety program; provide you and your employees with valuable safety advice; and answer any questions you may have throughout the process.
Other types of coverage to consider:
Commercial general liability insurance:
Commercial general liability insurance, or CGL for short, can help if you're found legally liable for bodily injuries or property damage to a third party. It can also offer protection in situations where you or your employees are conducting business offsite.
Commercial property insurance:
Commercial property insurance can help protect your physical assets, like your storefront and your warehouse. It's also designed to help with the repair or replacement costs for tools, equipment, inventory, electronics, and other assets that are crucial to running your business.
Commercial auto insurance:
Commercial auto insurance can help if you or your employed drivers get injured in a car accident involving your business vehicle. It can also provide replacement car coverage if you need to rent a temporary car for business operations following a covered accident.
Business interruption insurance:
This coverage is designed to help you recover lost business income and cover ongoing business expenses if your business is temporarily closed for repairs due to a covered loss.