If there's one thing most people can agree on it's that getting into an auto accident, even a minor one, is upsetting. And the claims process following an accident just adds to an already stressful situation. So, we at Federated Insurance decided it was time to make the entire experience just a little bit easier for you: we've developed a fully digital Express Claim service.
We're dedicated to delivering a better, faster claims experience. With our new Express Claim service, your appraisal will be complete within a half day. How are we able to accomplish this? By allowing our adjusters and appraisers to work remotely with you through your smartphone to capture photos of the damage in real time.
With our Express Claim service, your appraisal will be complete within a half day.
Our Express Claim service is another innovative step towards a better insurance experience for our customers.
So how does it work?
Picture this. The worst has happened: you've been in a fender bender and now you need to start the process of reporting the problem and resolving your claim. But, luckily, you're insured by Federated and have access to our Express Claim service. Here's how it works:
If you're in an auto accident, call the Federated claims team. We'll text or email a link to the Express Claim platform to your phone, and once you've opened it, you can snap some photos of the damage to your car and send them along.
The standard photo set needed will include pictures of the vehicle from all four corners, pictures of the damage, the VIN number, the license plate number, and the odometer. Once those pictures have been taken, you simply tap to send them directly to your claims adjuster in real time! Heads up! Working with the link and attaching photos will use mobile data, unless you're using Wi-Fi.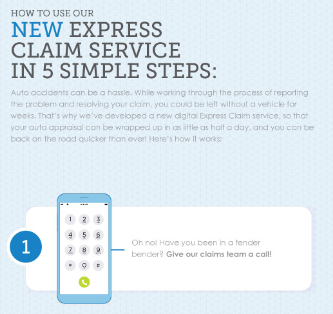 After you've sent the photos, your claims adjuster will start putting together your appraisal. While you wait for your appraisal to be completed, your adjuster can help you find one of our preferred collision centers for repair and arrange a rental if necessary.
To see an infographic outlining how to use our new Express Claim service in 6 simple steps, click here!
So far, our customers seem to love it!
Based on the feedback we've gotten so far, the new Express Claim service is just what our customers needed.
"It was perfect, easy and quick. I would definitely use it again."
"My adjuster did a good job explaining how to do it. I would use it again. It saves on having to take the time to go get an appraisal."
Still have some questions?
Do you still have some questions about our new Express Claim service? Not to worry! We're more than happy to answer any and all of your inquiries. Visit our claims page to find out more!
This blog is provided for information only and is not a substitute for professional advice. We make no representations or warranties regarding the accuracy or completeness of the information and will not be responsible for any loss arising out of reliance on the information.