Those working in the construction industry face a number of risks everyday. While fire and water damage remain top risks in construction, there are many more—from slips and falls to cyber-attacks to equipment theft. There are also obstacles one may not expect, like being forced to shut down during a global pandemic.
Want to learn more about risks in the construction industry and how to protect yourself against them?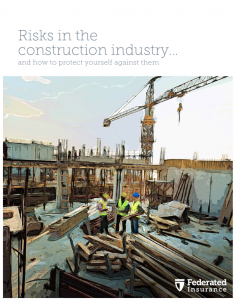 Whether working in residential, commercial, institutional, or infrastructure construction, the risks vary in size and complexity, and they can evolve throughout a project. Risk management, as well as proper policies and procedures, can help to avoid many of these risks, hazards, and accidents.
"The pandemic has forced everyone to move into an unprecedented space where the health of every worker on projects is paramount, so we need to work far more collaboratively than before," says Fred Muldowney-Brooks, Vice-President of Risk Services at Federated Insurance. "Hazards and issues that exist on construction projects have not gone away; they have become more complex. The risk management process along with innovative technology solutions will need to be a focus if these hazards and issues are to be addressed and controlled."
What key risks do those in the construction industry face?
Infection control
It's not exactly business as usual at construction sites across the country. Without a vaccine or herd immunity, there's still a risk of spreading the COVID-19 virus, so any business – including a construction site – that is open needs a plan for infection control.
Infection control requires a multi-faceted approach, including updated hygiene and cleaning practices, changes to the physical environment, and new behaviours by employees. It also requires developing a COVID-19 Response Plan—based on government and industry best practices—that you can roll out across all job sites. That plan must also be communicated to all employees, contractors, and trades, and updated as necessary.
Fire
Fire is a common risk for construction firms, since their operations require heat, open flames, and combustible products. In 2019, the top loss cause for property was fire, according to Federated Insurance's internal claims data. On average, the severity of losses because of fire totaled $425,166 and the largest claim cost over $2,000,000. Causes included everything from careless work by the builder to careless smoking by workers. To help prevent fires, construction sites must follow a number of steps, ranging from no smoking policies to hot work management programs to waste and debris removal.
Water damage
Water damage claims are both frequent and can be severe on construction sites. Water issues can arise from various sources, such as rain or weather-related events, drainage problems, or the improper installation of piping during construction projects. A water damage risk management program should be implemented to help prevent issues, and help rapidly detect and isolate any damage that does occur.
Equipment breakdown
Equipment breakdown refers to accidental damage to electrical, mechanical, pressure, or electronic equipment. For builders and contractors, equipment breakdown could interrupt business operations and result in costly repairs or replacement.
Theft
Heavy equipment and tools are easy to steal, easy to sell, and have a low recovery rate, often being shipped out of the province or country within hours. But the cost of replacing stolen equipment, tools, or materials isn't the only consequence of theft. Delays in project completion can increase costs and possibly trigger late penalties. Additionally, contractors could be held liable if the stolen equipment causes damage to people or property. To help prevent theft, various measures can be taken including surveillance cameras, geo-fencing systems, steering wheel and brake pedal locks or even something as simple as locking doors.
Safety of workers on-site
On construction sites where potential hazards are present, keeping employees safe is a top priority. Safety measures should include a personal protective equipment (PPE) program, guided by policies and procedures that spell out what types of equipment are required for which jobs and locations.
Liability
Those involved in construction can be held liable for several things. If a subcontractor performs work incorrectly and it results in a loss, a construction firm could be held liable. That's why vetting subcontractors and vendors is vital. Construction sites should also be outfitted with fencing, alarms, and motion sensors because any visitors to the site (wanted or not) who get injured are the builder's responsibility.
Communication
On any job site, clear communication is essential for worker safety, efficiency, and productivity. That starts with clear lines of communication between the head office and the job site, as well as between site supervisors and on-site employees, subcontractors, and suppliers. Field and office communication failures can result in delays, re-doing work, and costly mistakes. By establishing a formal chain of communication and documentation, you can mitigate risks and potentially avoid costly claims.
Cyber threats
While advanced technologies and digital tools are revolutionizing construction, they're also making the industry more vulnerable to cyber threats. The consequences can be dire, ranging from business disruption to economic destitution, as well as reputational damage. Security breaches have increased by 11 per cent since 2018 and 67 per cent since 2014, according to Accenture and the Ponemon Institute, in a 2019 cybercrime study. According to IBM, the average time to identify a breach in 2019 was 206 days. That means most organizations don't realize they've been hacked until it's much too late.
To combat cybercrime, construction firms should take a variety of steps including updating software regularly, backing up data off-site or in a cloud-based storage solution, and educating employees on how to recognize cyber threats.
Documentation and procedures
Many losses, liabilities, and subsequent insurance claims are not the result of a contractor's negligence on a project, but because the contractor can't provide the required details—the work performed, materials purchased, and suppliers used—or provide documentation to verify work performed by subcontractors. The responsibility for obtaining documentation on work performed and materials used to complete a project lies with the contractor. Since actions against a contractor can occur years after project completion, efforts should be made to retain those documents indefinitely.
Your next steps
Being aware of the risks on and off construction sites and implementing steps to mitigate them is vital. To learn more, download our whitepaper on construction industry risks!
But if the worst-case scenario does occur, having the right coverage—along with the right documentation—can make the claims process much smoother. Learn how Federated Insurance can help by visiting our contractors' insurance page today!
This blog is provided for information only and is not a substitute for professional advice. We make no representations or warranties regarding the accuracy or completeness of the information and will not be responsible for any loss arising out of reliance on the information.