Picture this: business is running smoothly as usual, when suddenly disaster strikes. Your office building experiences flooding overnight, a fire breaks out in the kitchen, or the power unexpectedly cuts out and halts production. What do you do now?
This is when an emergency contact list comes into play. After the initial panic subsides, you need to handle the situation in a quick and orderly fashion. Knowing who you need to contact can help you manage that stressful situation.
But what should the list look like? What should be included and what should be left out? We've created a template for you to download, print, and fill in at your convenience.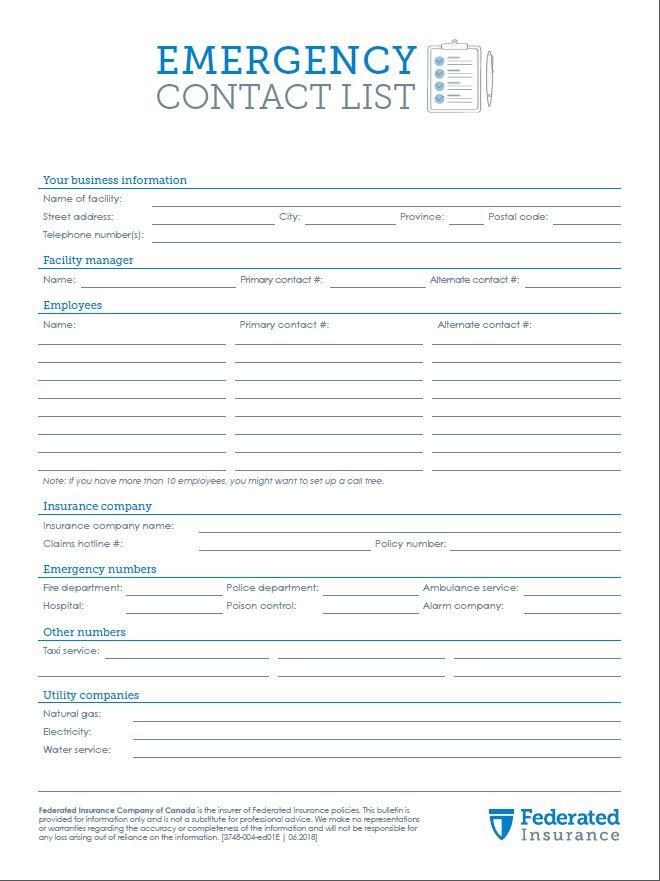 Download our emergency contact list template!
What should you include on your list?
Deciding what to include on your emergency contact list is very important because when something goes wrong, you want to make sure all the information you need is in one place. It's also crucial that your list doesn't have too much on it, so you're not sorting through unnecessary information to find the contact details you really need.
Your company
First things first, your business information should be the top entry on your list. This should include your company name, address, location, and phone number. While you may think you'll remember these details, in a moment of panic you could forget valuable information, so it's better to be safe. That way, when you're speaking with emergency services, you have all the details right in front of you.
Your facility manager
If there's a problem with your building, the knowledge and expertise of your facility manager, building owner, or landlord may come in handy. They'll know the ins and outs of the property and may be able to reverse an urgent situation. It's important to include a few forms of contact info, if possible, so you have the best chance of reaching them right away.
Employee information
Your list should also include contact info for your employees and their designated emergency contacts. This is important for two reasons. First, your employees will need to know if something goes wrong with the business. Second, if the emergency involves one of your employees, you'll need to get in touch with their emergency contacts. That's why your list should include a phone number (and email address) for all employees, as well as an emergency contact for each employee.
Emergency service numbers
Everyone knows to call 911 if a disaster occurs, but some other emergency services deserve a spot on your contact list, too. These could include poison control, animal control, your alarm system company, and any other industry-specific services you think you might need if things do go wrong.
Your insurance information
If your business experiences a loss, you'll need to contact your insurer as soon as possible. That's why your emergency contact list should include the name of your insurance company, your policy number, and the direct number to their claims team. That way, you can get in touch with your insurer quickly, begin the claims process faster, and get your business up and running again as soon as possible.
Utility companies
The numbers for gas, electricity, and water services are valuable assets for your emergency contact list. They can be vital in helping minimize damages if your business experiences something like a gas leak or a burst pipe.
Other useful contacts
There are some other numbers that may be useful to include on your list, like locksmiths, taxi companies, or tow trucks. Having all the numbers you might need readily available is important so you're not wasting valuable time searching for them. What those additional numbers might be are up to you. After all, you know your business better than anybody.
Being insured is important, too
Being prepared for an emergency is important, but so is having an insurance policy you can rely on. The right business insurance policy can be the difference between a smooth recovery period and a rough one. To learn more about our business insurance offerings, visit our business insurance page today!
This blog is provided for information only and is not a substitute for professional advice. We make no representations or warranties regarding the accuracy or completeness of the information and will not be responsible for any loss arising out of reliance on the information.