In Canada, fires kill eight people every week, with residential fires accounting for 73% of those fatalities. But many of these fatalities—and resulting home insurance claims—can be prevented with proper smoke alarm maintenance. From October 9-15th, Fire Prevention Week serves as a reminder to encourage people to replace their smoke detectors. Most require replacing every 10 years. It's also a great time to review smoke alarm safety essentials.
As a property owner looking to safeguard your largest asset, it's important to have working smoke alarms in your home or business facility, so that you're notified at the first sign of a fire. Every fireproof business has a fire detection system installed on its premises.
Taking the time to select the right smoke alarm with proper installation and maintenance can go a long way to help with safeguarding your property.
Types of smoke alarm
There are two types of smoke alarms: ionization smoke alarms and photoelectric smoke alarms:
Ionization smoke alarms detect invisible fire particles associated with fast flaming fires sooner than photoelectric alarms.
Photoelectric smoke alarms may detect fire particles associated with slow smouldering fires sooner than ionization alarms.
Things to Consider when deciding where to install your smoke alarm
Since smoke rises, it's typically recommended that you place your smoke alarms on the ceiling, avoiding ceilings that are near bathrooms, heating appliances, windows and ceiling fans. Half of fatal fires occur at night while people are asleep, so we typically recommend installing smoke alarms inside each bedroom and outside each sleeping area on every level of the home, including the basement. In addition to those, consider installing an alarm in the hall following the manufacturer's installation instructions.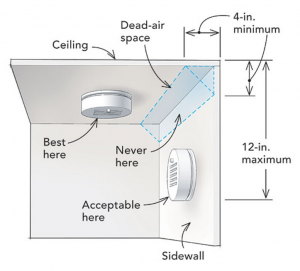 Image courtesy of Town of Brighton
Smoke alarm maintenance
You should maintain your smoke alarms according to manufacturer's instructions. Test your smoke alarms regularly to ensure the battery and alarm are operating property. Often testing can be completed by pressing the test button or by using a smouldering incense stick to trigger the alarm.
If the battery needs replacing, most smoke alarms will sound a regular warning 'beep'. However it is best practice to not wait until the warning 'beep' and to replace batteries when you change your clocks in the spring and fall. The typical life expectancy of a smoke alarm is 87,000 hours, or about 10 years, so make sure you note the date that you alarm was purchased and installed. After its life expectancy is up, a smoke alarm may fail to alert you when there's a fire, so make sure they are replaced. Typical carbon monoxide alarms should be replaced every five years.
Consider cleaning your smoke alarm every six months, or as recommended by the manufacturer, using a soft brush or a vacuum cleaner to gently remove any dust buildup. Never clean your smoke alarm while it's electrically-connected.
Installing your smoke alarms correctly and ensuring they're working properly are small steps you can take today to protect your property and keep your most valuable possessions safe from fire. For any questions, contact your local fire department.
This blog is provided for information only and is not a substitute for professional advice. We make no representations or warranties regarding the accuracy or completeness of the information and will not be responsible for any loss arising out of reliance on the information.