Business recovery planning
After an emergency strikes, business owners want to be able to bounce back with ease. Unfortunately, many businesses will find themselves unable to re-open after a disaster if they were improperly prepared. Taking the time to prepare ahead of time can greatly increase your business' chances of surviving and resuming normal operations after an incident. For this reason, a significant part of your Risk Management program should be dedicated to disaster recovery, and a business recovery plan is a great tool to help you get back on track.
The purpose of a business recovery plan is to minimize the operational, financial, legal, and other material consequences – including to your business' reputation — that can arise from a disruption. The plan should cover policies, standards, and procedures for ensuring that specified operations can be maintained and recovered in a timely fashion in the event of a disaster.
The basics of a business recovery plan
Disaster recovery for a business should be well laid-out and organized. After suffering a setback, the last thing you want to be struggling with is navigating the details of your prepared plan. To ensure this doesn't happen, the plan can be broken up into three main components:
An emergency response plan: The initial actions required to facilitate communication and minimize damage.
A business continuity plan: The actions required to ensure essential services resume immediately.
A business resumption plan: The actions required to resume normal operations.
While putting together your business' recovery plan, there are several core principles that you should follow:
Essential services must be clearly defined
Senior management must have input and concurrence
Plans need to be clear and simple to follow
Plans must be distributed among all stakeholders
Keep the plan viable by continually validating and updating the details
Having an effective recovery plan in place comes with a long list of benefits, including:
Ensuring the safety of company employees and the general public
Minimizing potential revenue loss
Preventing loss of confidence in your company
Reducing the probability of another disaster or disruption
Reducing the disruption of normal operations
Giving yourself a significant advantage over your competitors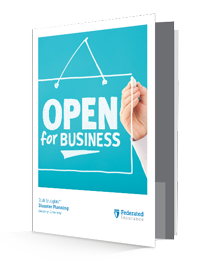 Want help developing your own Business Recovery Plan? We have a downloadable Disaster Planning Guide.