Fires are something all business owners want to avoid, but when a fire breaks out in a facility that deals with tires, things can escalate quickly. Tire fires can be dangerous and cause extensive damage.
Working to prevent tire fires is particularly important now, as both the number of claims from tire businesses and the severity of those claims have increased between 2017 and 2018, according to Federated Insurance's internal claims data. Over the same respective time periods, the total value of losses jumped from approximately $126,000 in 2017 to approximately $1,377,000 in 2018.
Download our white paper on tire business risks!
To help mitigate the chance of a loss, there are several requirements set out by the National Fire Code of Canada (NFC) and the National Fire Protection Association (NFPA) designed to ensure your business stays safe
The requirements
Your business must meet NFPA 13 (Standard for the Installation of Sprinkler Systems), 14 (Standard for the Installation of Standpipe and Hose Systems), and 25 (Standard for the Inspection, Testing, and Maintenance of Water-Based Fire Protection Systems).
So, what does this mean for you?
Consider these standards guidelines for your safety operations: NFPA 13 and 14 provide information on the types of systems needed to protect the building based on the type of building construction, the size of the building, the height of the building, occupancy, items being stored, and the height of storage. NFPA 25 defines what the building owner must do to the fire protection systems on a daily, weekly, monthly, and annual basis.
To prevent tire fires, all gauges, control valves, and alarm devices on water-based fire protection systems must be inspected on a quarterly basis. The system must also be inspected and tested annually, according to NFPA 25. It's also important to have portable fire extinguishers readily available.
NFPA 10 (Standard for Portable Fire Extinguishers) provides guidelines for the number and location of fire extinguishers, but generally they're located at each end of the aisle, in the middle of the aisle if it's long enough, and at all exit points of the building.
Fire walls
If a tire storage area is designed to contain more than 13,243 cubic feet (375 m3) of rubber tires, it must be separated from the remainder of the building by walls made with certain materials of a certain thickness, complying with Article 3.3.6.5 of Division B of the National Building Code of Canada 2015. Different wall types have different fire ratings, which determine how long it would take for a fire to compromise the wall's integrity.
| Wall Thickness | 4 inches | 6 inches | 8 inches | 10 inches | 12 inches |
| --- | --- | --- | --- | --- | --- |
| Clay Brick | 1 hour | — | 5 hours | 5 hours | 10 hours |
| Reinforced Concrete | 1 hour | 3 hours | 5 hours | — | — |
| Hollow Tile | — | .75 hours | 2 hours | — | 3.5 hours |
| Concrete Blocks | — | 1.5 hours | 2 hours | 3.5 hours | 8 hours |
To better prepare their businesses, some tire re-treaders will have the fire department come to their lot so they can familiarize themselves with the setup. This also provides an opportunity for the business owner to find out how much space the fire department would need if they had to put out a fire.
Sprinklers
It may seem like common sense, but it's important to note that sprinklers are vital tools to help manage the risk of fire. Each business' sprinkler system should be designed for its individual needs, taking into consideration:
The size of the building
Construction of the building
Occupancy
How the inventory is stored (racks, solid, or open shelving)
How the tires are stored (vertical, horizontal, or laced).
If changes are made to the layout of the building, design of the racking, height of storage, etc., the design of the sprinkler system should be reviewed by a professional to ensure the system is still adequate for the space.
NFPA 13 provides ceiling sprinkler information for tire storage businesses to choose the right system depending on:
How their tires are stacked
Where they're stacked
How high they're stacked
The height of the building
NFPA 1 requires that buildings and structures where the space designated for the storage of tires exceeds 20,000 cubic feet (565m3) must be equipped with an approved automatic fire sprinkler system.
There are also tire storage clearance requirements, which outline how far the roof, sprinkler deflectors, and heaters must be from the top of the tire pile. There must be 36 inches (0.9 m) between the tires and sprinkler deflectors, 39 inches (1 m) between tires and roof structures, and 36 inches (0.9 m) between tires and heaters, duct furnaces, or flues.
There are tire storage clearance requirements, which outline how far the roof, sprinkler deflectors, and heaters must be from the top of the tire pile.
Depending on the racking, shelving, and products in the warehouse, in-rack sprinklers are sometimes required to help control the risk of fire. Since they're within the storage area, these sprinkler heads must be protected by a metal cage, so they're not easily hit or knocked off. There are a number of other requirements and guidelines for in-rack sprinklers outlined within NFPA 13.
Sprinkler systems also need to undergo annual inspections, and any deficiencies need to be corrected in compliance with NFPA 25 (ITM). The systems should also be monitored by an off-site alarm company. Ideally, the system would include monitors for water flow, system pressure, and a main valve that will trigger an alarm if it's tampered with or if there's a change in pressure.
Want to learn more?
Fire isn't the only concern a tire business owner needs to be aware of. There are many risks that need to be safeguarded against and best practices that should be employed.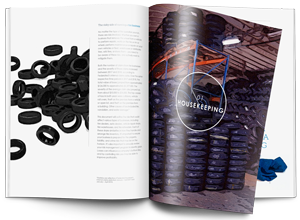 Do you want to learn more about the risks tire businesses face and the appropriate steps to take against them?
Reliable business insurance can help you deal with the aftermath of a fire
Steps to avoid tire fires can be taken, but sometimes the necessary precautions just aren't enough. Despite being prepared, things can go wrong quickly. If that does happen, it's vital that your business has insurance to protect against the costly losses a fire can bring. That's where business insurance comes in. To find out how Federated can help your business, visit our business insurance page today!
This blog is provided for information only and is not a substitute for professional advice. We make no representations or warranties regarding the accuracy or completeness of the information and will not be responsible for any loss arising out of reliance on the information.